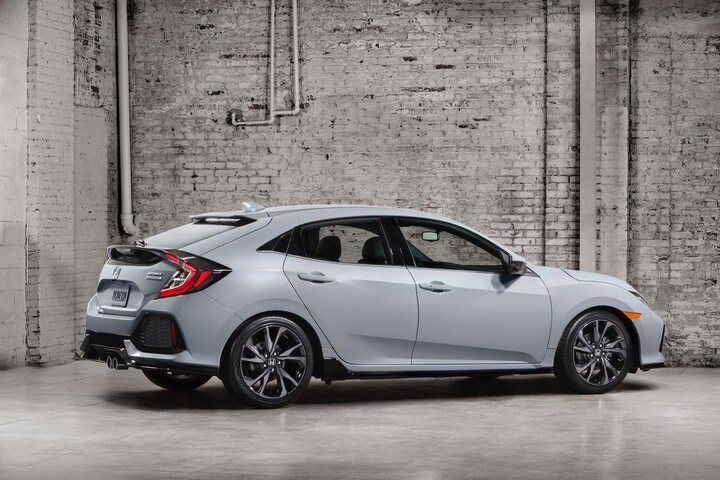 You may think you know the Honda Civic, but you don't know the 2017 Civic – and it's out to change what you think the car can be. The 2017 Civic Hatchback is part of the 10th-generation Civic lineup, and rarely has there been an addition this exciting. What makes this vehicle so remarkable? It all starts with the design. The Civic Hatchback's European-inspired design features 5 door versatility and a sleek, aerodynamic look that makes for a one-of-a-kind driving experience.
Under the hood, the all-new Civic Hatchback is equipped with a 1.5 liter direct-injected turbo engine technology. The turbo engine is offered with a CVT or a 6-speed manual transmission.
Inside the Civic Hatchback, the car displays a high level of safety features and entertainment options to really make the vehicle one that you never want to step out of. The amazing Honda Sensing technologies are available, from which includes Collision Mitigation Braking System, Forward Collision Warning, Lane Keeping Assist, and more. For entertainment options, Apple CarPlay and Anroid Auto are both available options. LED headlights and heated seats are just some of the other options you'll find in the interior of the Civic Hatchback.
"The Civic Hatch has been a staple for Honda in Europe, but has long been the forbidden fruit for Honda fans in the U.S.," said Jeff Conrad, senior vice president of the Honda Division of American Honda Motor Co., Inc. "Now, we're bringing this sporty, stylish and versatile Civic Hatchback to North America, as we amp up the performance of our incredible Civic lineup with each new Civic model."
If the 2017 Honda Civic Hatchback sounds like the car for you, stop by Nalley Honda and let our knowledgeable and friendly staff help you find your next new car.